About Us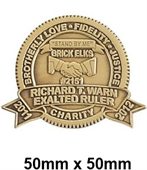 Lapel Pins Only is where you come when you need only the best custom made lapel pins for your company or event. We specialise in supplying you with high quality lapel pins shaped and finished how you wish and all for very affordable bulk prices.
Based in Sydney Australia, we have been doing business in this industry for over 10 years. We know the ins and the outs and can ship your order to you no matter where you are in the country.
Need to know more before doing business with us? Fair enough! Shoot us a quick email or give us a ring and we'll tell you everything you need to know. Head over to our contact page and you'll find a myriad of ways to get in touch with Lapel Pins Only, the experts in custom made Lapel Pins.
The Lapel Pins Only Team